History of the enterprise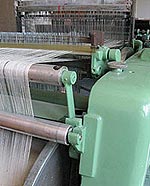 June 1936
Decision concerning new factory building
September 1936
Starts the production of military and hunt munition
1940
Construction of other factory buildings finished
1945
Starts the production of sewing machines and flat knitting machines
1947
Start of the production of semi-automatic shuttle looms A44 and F44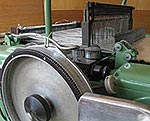 1948
First jet loom, width 45 cm (P45) produced.
Development works - Interlock machines - started
1956
Invention of the confusor enables to increase the width up to 165 cm
1959
Starts the production of great diameter knitting machines Interlock 18"
1961
Development and production of jet looms. In this period Czechoslovakia comes to be sole and first country of the world, which started to introduce with success and in mass the air jet weaving machines and to export them in high degree as well.
1962
Serial production of confusor machines width 105 and 125 cm started
1978-1990
Development and production of new machine types. Prevalent quantity of the production exported in the whole world. Market proportion 22%